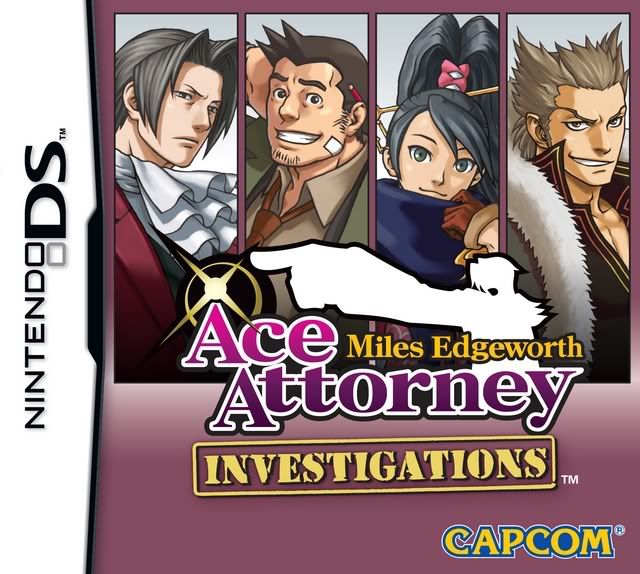 Well, now I'll write some review of my own about Ace Attorney Investigations-Miles Edgeworth,
hope u'll enjoy reading it...
Ace Attorney Investigations-Miles Edgeworth
is an NDS game, release by CAPCOM.
It's a spin-off from the original game Phoenix Wright-Ace Attorney series.
And this is the fifth game in the series. This game is abaout playing as a lawyer and detective.
Making sure, u'll have to find some evidence to provide u with some information for u'r case.
In this game, we're not playing Phoenix Wright again, but his rival... Miles Edgeworth, the prosecutor. Some people adore Edgeworth for his cool and calm expression. And this is one of the most anticipated game in the series.
About the story line, I will not spoil it, because the power of this game is the story.
And here, I'll give u some review about it's game play, graphics & sounds, and unique features.
Game Play- 7/10
The fifth game of the series, seriously will have some update game play from it's predecessor.
Like a third person view, which player can direct Egdeworth and his companion through a room to find some new evidence. And still the basic game play of the series, a text base game.
Many people think, a text base game is boring, because u can only see text, and a still picture of the character. But, I'll say it, not for these game. Because, u will get sucked into the story while u playing it.
Like some other detective game, in here we ought to find some evidence to help us find the criminal of the case, find some hole in someone testimony, and at last to solve the case.
The evidence can be found trough out the game.
In this game, player will have to do some cross examination to the witness, or the criminal to reveal the truth. While doing some cross examination, there are some point, where u have to present some evidence to help u reveal some truth behind their alibi.
Well, after all, it's still a text base game play. U can't really hoping to much from these type of game play tough.
Graphics & Sounds- 8.8/10
The graphics of this game is quite good. Well, for NDS game this is good enough to be played. A good character motion, design, style, and their expression. Each element was put in their best place in this game. I can't say it more, because the developer already make the best graphics for these series into this game.
The sounds, each character have their own unique voice. And their voice can describe how the character is. And also the music, they gave some good background music.
Well, for me, I like it's predecessor background music best. But it's a still good back ground music they put in this game. Each music can describe the situation where the character was put into at the moment.
Unique features - 9.1/10
Well, for some people who haven't played Phoenix Wright series, will not know that these game have a great unique features.
The first features in this game is, u can shout trough the NDS mic when u want to interrupt a testimony, or find some evidence that connect to the criminal.
The second, u can find in every Phoenix Wright series, u can save u'r game anywhere anytime. Just press 'Start' button, and u can save u'r game.
The third, this is a new feature in the series, player can move the character trough a room in some moment. So, the character can speak to some people, find some clue in some different place, and also player can saw their hero in the game in action like walking and running.
The fourth, this is a new feature to in the series, 'Logic'. In Logic, player will connect to tough that was collected trough the case to make a new tough to find the criminal. Each first tough can be found with searching the crime scene or talk to some people.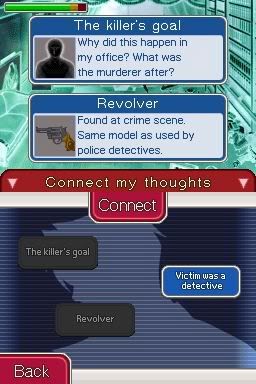 For me, I'll give Ace Attorney Investigations-Miles Edgeworth
8.3/10
.
And my suggestion for u is, "Try it!! The story is fascinating."
Well, that's all my review, hope can help u to make some decision to buy this game or not.
By :
Xire
Addi
And also, tanx for reading my blog.